This post may contain affiliate links, which means we may receive a commission if you purchase through our links. Please read our full disclosure here.
This post will show you the cutest beach nail designs to rock this summer or on your next vacation.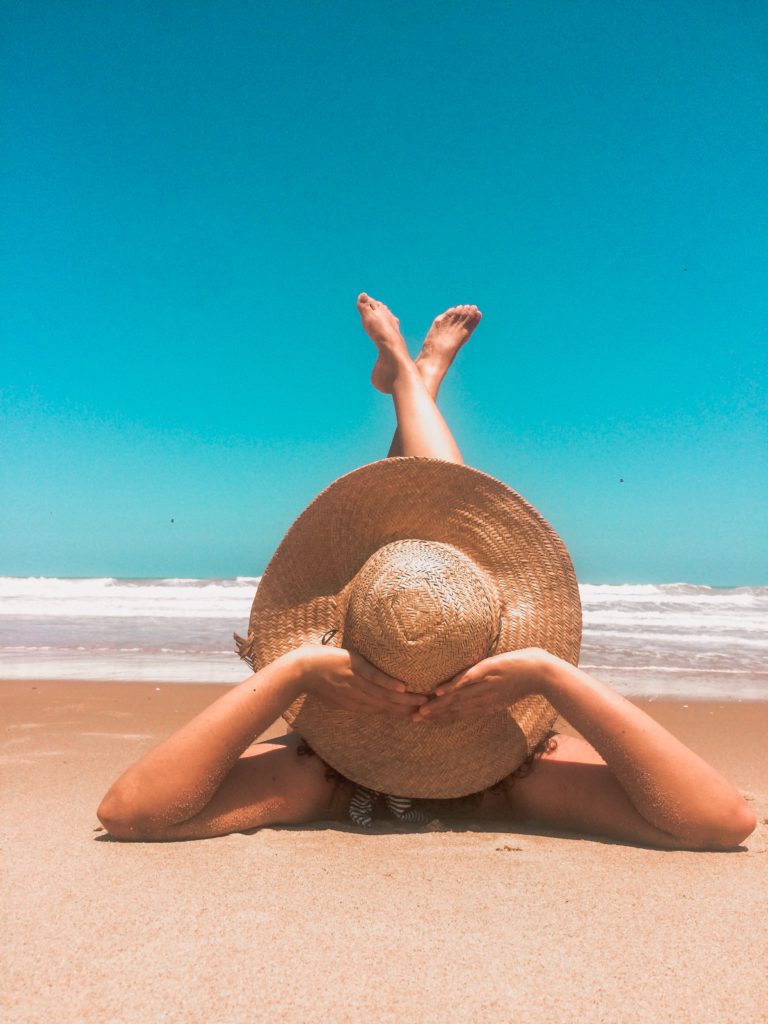 With summer in full swing, I'm channeling beachy vibes into all aspects of my style, including my nails. Beach nails are so cute, and today I'm showing you how to get them.
Whether you're going on vacation or enjoying the summer weather, there's nothing like a cute mani or pedi to pair with your favorite swimsuit and sandals. So why not take this concept over the top by adding a beach theme to your nails?
If you want the perfect beach nailsit's all about using bright colors, nautical- or surf-themed designs, and glitter for the "sand" — or a combination of all three.
Need some inspo? If you want to bring the beach to your next manicure or pedicure, check out these 20 beach nail designs that you will love for your next day in the sun.
Short Beach Nail Designs
1. Ocean Nails
To begin, a great way to incorporate a beach theme into your nail looks for the summer is by doing an ocean nail designs.
This look focuses on pretty blue and white nail polish as well as a neutral glitter accent nail to resemble sand. Adding some starfish and seashell embellishments can also make this look even more fun. Watch the tutorial above to see how it's done!
2. Blue & Silver Glitter Nails
If you don't want to do a very intricate design on your nails, you could also go the less detailed route by just doing a fun blue nail look to get in the mood for summer.
Also, to spice your look up a bit more, you can add some sparkle to make your nails really stand out.
This look appears complex, but it's actually super easy — you just need scotch tape to make the lines perfect. Check out the tutorial to see how you can do this manicure at home.
Related readings: The Best Blue Nail Ideas for Your Next Manicure
3. Nautical Nails
A great summer nail design that looks super cute on short nails is nautical nails. This nail look incorporates nautical blue with white nail polish, offset by summery coral, to give you those maritime vibes.
You can also incorporate some stripes and an anchor design to make your nails fit more with the nautical theme.
4. Palm Tree Nails
How cute are these palm tree nails? They scream Miami to me but they would honestly be adorable anywhere. They would be so cute for summer or your next beach vacation.
Want to know how they're done? This short video tutorial will show you how to get cute palm tree designs on short nails.
5. Tropical Flower Nails
Floral designs are also an excellent option for summer nails, especially if you opt for tropical flower nails like the ones shown in this video.
I adore these nails for summer because they will get you into the summertime mood! You can do any colors you like, but I love the coral, green, and deep blue combo seen above.
6. Mermaid Nails
If you want to stick to the ocean theme, you can go for all the glam vibes by doing mermaid nails for your next mani.
Mermaid nails look complex, but they're pretty simple. It's all about creating the illusion of scales on your nails, as seen in the video above. Use metallic or glitter polishes as well for those Ariel vibes.
7. Pineapple Nails
Fruit is also a popular fashion theme when summertime comes around, and fruit nails are perfect for sunny days. If you want a tropical, beachy feel, try pineapple nails as a fun twist on this trend.
The nail look above combines pink, yellow, and orange to create an adorable pineapple manicure that will get you tons of compliments.
Long Beach Nail Designs
8. Seashell Nails
Prefer your nails on the long side? There are plenty of beach nail designs that will look amazing on long nails! For example, a really cool one is the seashell nail designs seen above.
If you have never seen this design before, it is basically when you take a fake nail and add shape to it, so it resembles a seashell. (The video above uses hard gel to build the shape.)
If you are elements of how this is done, watch this short video!
9. Wave Nails
A wave design also looks really cool on longer nails, as shown in this video. You could add some rhinestones to this nail design to make your nails stand out more!
10. Seashell Nails
Seashell nails also look super cool on long nails, especially if you do french seashell nails, as shown in this video.
This look is a little harder to achieve than the other ideas on this page because it is very detailed, but you will adore your nails if you end up trying this look! I can't stop staring at these.
11. Sand Nails
Another excellent beach nail design for longer nails is sand nails. Similar to seashell nails, you will want to shape your nails so that the texture resembles writing in the sand. (The video above shows you how it's done.)
Also, to add some fun to this look, don't forget to add some seashells and starfish embellishments!
12. Blue Glitter Chrome Nails
I love these blue glitter chrome nails! They remind me of mermaid nails, except they're a more straightforward design. They're an example of a gorgeous beachy nail look for longer nails.
All you will need for this look is some aqua blue nail polish and some glitter, and you will be able to create this gorgeous look!
13. Aquarium Nails
One of my absolute favorite beach nail designs is aquarium nails. I mean, have you ever seen anything like this look?
These nails give off the illusion of an aquarium and will definitely make your nails stand out, so be sure to check out this video to see how to get these nails!
14. Summer Sunset Nails
I also love summer sunset nails for longer nails because of the gorgeous blue, orange, pink, and purple neon colors. These would be amazing for vacation, too!
Not only does this look incorporate some super pretty nail polish colors, but you can also add some designs on top of it, like palm trees or clouds, as shown in this video.
Beach Nail Designs for Toes
15. Floral Nails
Of course, we can't forget about your toes! You will want to ensure that your toes look good for the beach. So, if you are looking for cute beach nail designs for your toes, I highly recommend going for floral nails like these.
Floral nails will be perfect for the summertime and can be done in whatever nail polish color you desire. You can DIY them at home with a simple dotting tool, so don't be intimidated by this nail art!
16. Beach French Nails
You could also choose to go for an awesome beach-themed design for your toes, like these French beach nails.
I adore this nail design because it is so cute, and you can incorporate some cute embellishments like gold seashells and pearls. It's also incredibly simple, meaning you don't need to visit the salon to get this look.
17. Nautical Toe Nails
Nautical nail designs also look great for pedicures and will give your toes a perfect look for the summertime.
If you are wondering how to get the nautical toenail design at home, watch this short video on how to do it!
18. Floral French Nails
If you like simple and classy nail designs, you should try French floral toenails.
This is a super pretty nail design that will also work perfectly for the summertime (just opt ​​for a tropical flower), and it is easy to recreate by just watching this short video!
19. Starfish Nails
If you want a cute, quirky, beach-themed nail design for your toes, go for these starfish nails! This design is easy to recreate and is an unexpected take on your usual beach nails.
20. Fruit Ombre Nails
Nail stickers are my favorite way to add easy nail art to my pedicures. For example, you can do a super cute fruit nail design on your toes for the summertime with some mini fruit nail stickers on ombre toenails.
Just watch this video to see exactly how to get a look like this for your toes.
Which beach nail designs from this list are your favorite?
What kind of beach nails do you like to get for the summer? Which of these beach nail designs are you going to try?