This post may contain affiliate links, which means we may receive a commission if you purchase through our links. Please read our full disclosure here.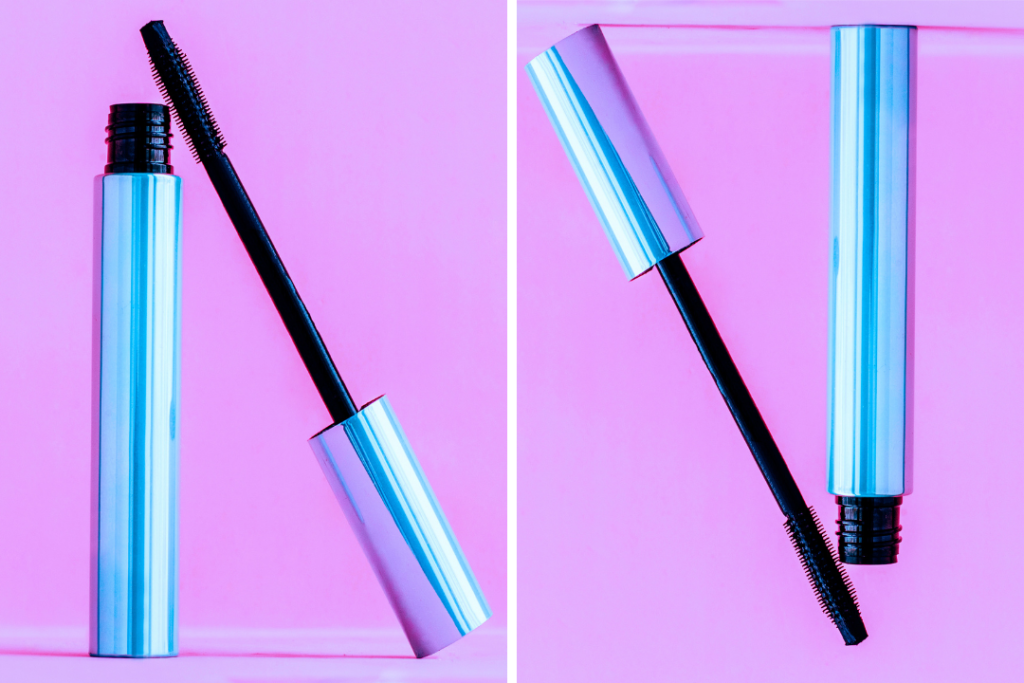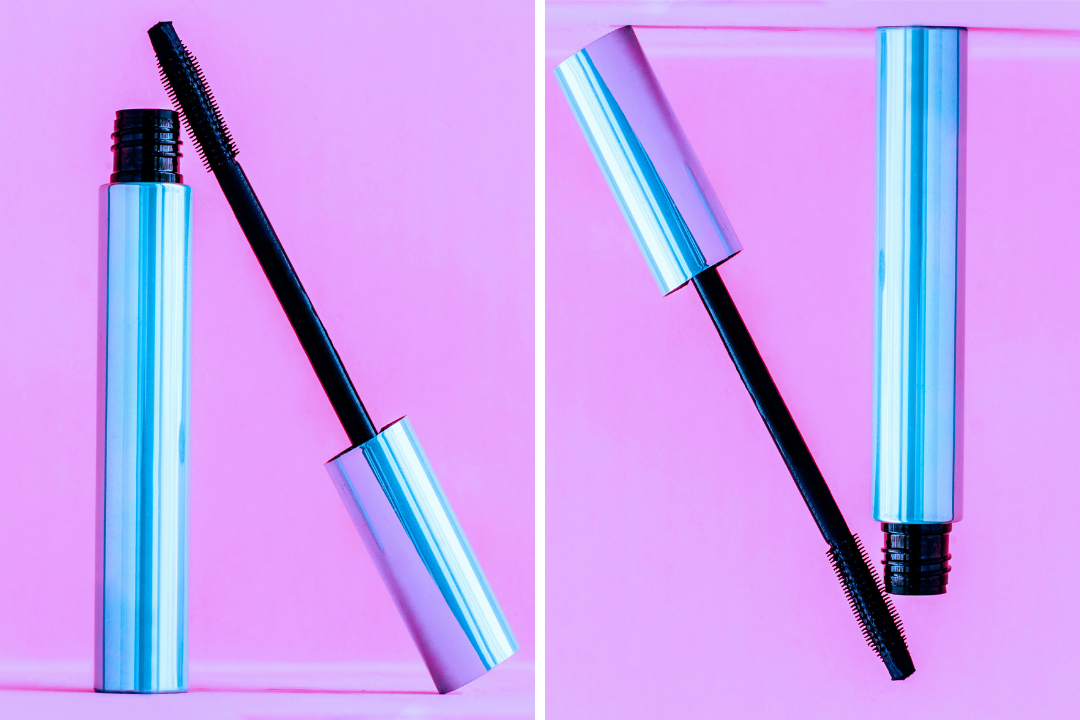 I have thin lashes, so I know firsthand the struggle of finding the best mascara to give natural lashes a volume boost.
As a teen, I tried every volumizing mascara on the market and I never really found a good mascara that helped make my lashes look the way I wanted. In the last few years, however, mascaras have come a long way and there are so many more options on the market.
After testing way more mascaras than any one person should, I've narrowed it down to my top five favorites. Read on for the five best mascaras for thin lashes on the market today.
5 Best Mascaras for Thin Lashes
1. Covergirl Lash Blast Volume Mascara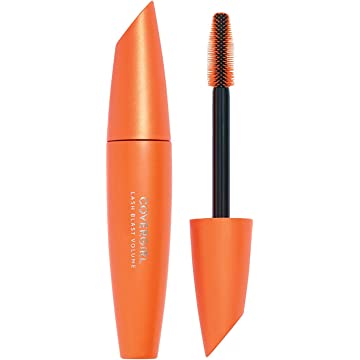 If your lashes are lacking in volume and length, try the Covergirl Lash Blast Volume Mascara to get instant volume for a very affordable price. It coats every lash without clumping or flaking to give what it claims is "up to 10 times more volume."
I love this mascara because it has 4 shades available, which is the most on the list, giving you a ton of options to fit this mascara to your look. It is also the only cruelty-free one on the list so if that is a deciding factor, give this one a go.
I also want to note that this product is the most affordable on the list, which is excellent, and you also get your money's worth for what it does. It's doesn't have the fanciest brush in the world, but the packaging is fun, and you will get a mascara that gives you volume and length, looks cute, and doesn't hurt your wallet.
Colors: 4 shades available
Waterproof? No (But a waterproof version is available.)
Product Size: 0.44 fl oz
Key Features: Creates full and voluminous lashes
Cruelty-free? Yes
Recommended For: This affordable mascara gives instant fullness and volume to lashes by using CoverGirl's patent-pending unique brush to coat each lash. The brush separates lashes individually with no clumping or flaking. The product has cute packaging with its bright orange color and is cruelty-free.
Overall, you cannot go wrong with Covergirl's original Lash Blast. It's available at any drugstore, does exactly what it claims, and is extremely affordable. If you're looking for a basic mascara that does it all, try Lash Blast and thank me later.
Pros:
Great at instantly giving volume to lashes
It has 4 different shades available
Unique brush
Leaping bunny certified cruelty-free
Most affordable mascara on the list (0.44 fl oz for $5.72)
Cons:
Not waterproof
Can smudge, especially when first applying
2. Estee Lauder Sumptuous Bold Volume Lifting Mascara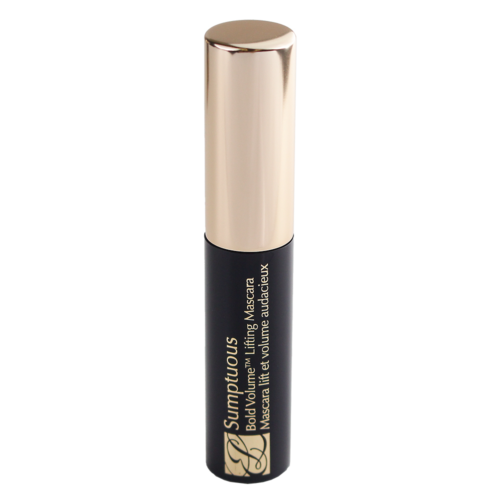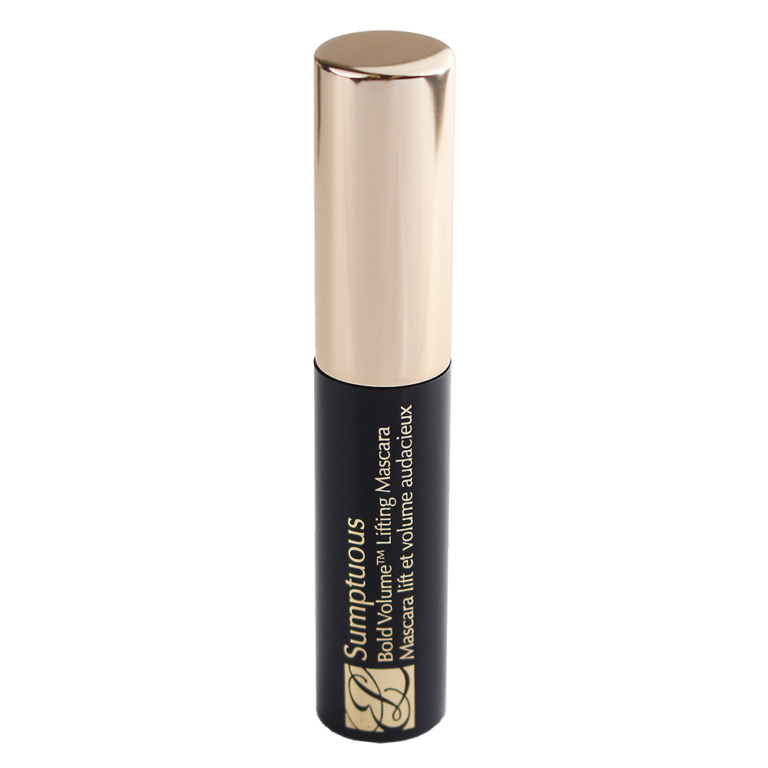 Want serious volume and lift, and don't mind paying for it? This mascara is the best overall for creating voluminous and thicker lashes. This Estee Lauder Volume Lifting Mascara claims to lift lashes, curl, plump, and thicken them, all at once. It's a reasonable price, too, though not the most affordable on the list.
The Estee mascara is the only one on the list that claims to plump and lift lashes as its primary benefit. It also has lash-thickening fibers to coat lashes, and even claims to help curl the lashes.
I have a slight curl in my lashes, but if you have more straight lashes or can't get the curl with an eyelash curler, take a look at this mascara. However, if you are looking for more length, skip this one.
Colors: 1 shade available
Waterproof? No
Product Size: 2.8ml (1oz for 4 tubes each)
Key Features: Volume formula has lash-thickening fibers, lifts and plumps, curls and lifts lashes
Cruelty-free? No
Recommended For: If you're looking for mega volume, I'd give this mascara a try. It specifically focuses on increasing volume to your lashes, and it delivers on its claims in this area.
There are a few drawbacks to note. First is that it doesn't mention lengthening, so if that is what you are mainly looking for, another mascara might interest you more.
Also, it's not cruelty-free, and the price is reasonable but not the most affordable. Also, this isn't waterproof, so there can be smudging too. Look elsewhere if you want waterproof mascara.
Finally, there is not much variety in the shade colors, with only one shade available. And the packaging is simple also, with the cap and some font being gold against a black tube.
If plumping and lifting are what you are after, however, it's worth giving this product a shot.
Pros:
Lifts and curls lashes
Volume formula that has lash-thickening fibers
Plumps and creates bold lashes
Price is decent
Cons:
Not waterproof
Only one shade available
Have to look for individual tubes; this is typically sold online in small packs of four
Not suitable for contact lens wearers due to the fibers
3. MAC MacStack Mascara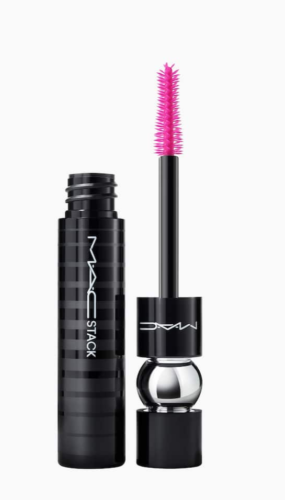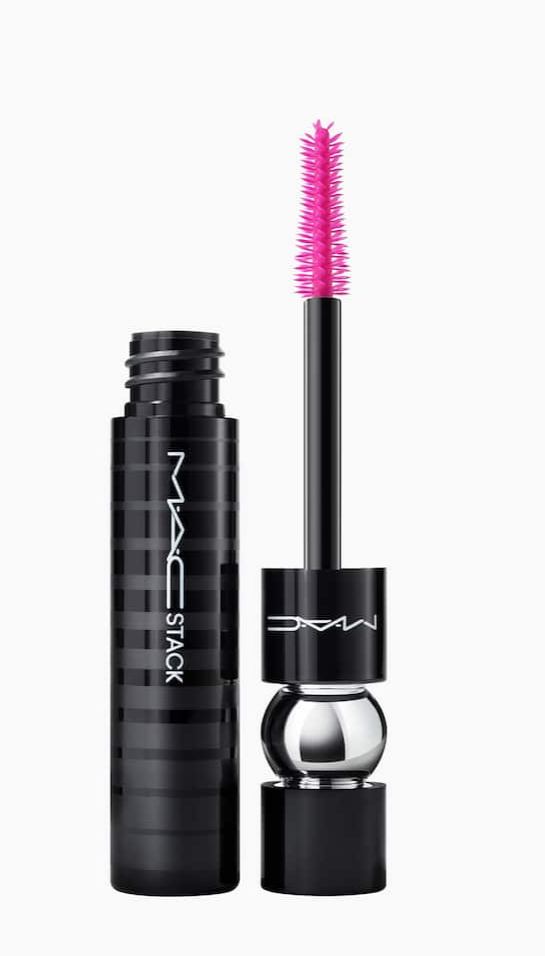 I recently tried this MAC MacStack Mascara since it promised to lengthen. My main requirement in a mascara is lengthening since my lashes are short as well as thin.
The MacStack mascara is buildable and clump-resistant, so you can stack many layers to get increased volume and length. Also, it has two variations, the mega and the micro. Mega is for upper or longer lashes, and micro is for lower lashes and shorter lashes, so keep that in mind when buying.
Bonus: Some people say it makes it look like you are wearing falsies since this mascara is stackable, so if that piques your interest, you might want to try it.
Colors: 1 shade available
Waterproof? No
Product Size: 12 mL
Key Features: Buildable volume, separates and defines lashes, lengthens
Cruelty-free? No
Recommended For: This mascara has had a lot of hype online, so I was excited when I picked it up. In my experience, this is great for building up a customized look — you can layer it to your heart's content.
There are a few drawbacks to this product. First, there's only one shade available. Also, it is not waterproof, so it's not recommended for a day of swimming or sweating. (See our favorite waterproof mascaras here!)
I love that this product is customizable to give you the look you want. If you want a dramatic look, you can build it up to look like the Chanel mascara that's last on this list (though that product claims to do the job in one stroke). If you want an everyday look, you can apply less.
The packaging is my favorite of all the products on this list and is one of the reasons I picked it up. I love that the brush is a different contrasting color to the rest of the packaging. It is a beautiful-looking mascara and has good benefits to boot.
Pros:
Buildable
Clump-resistant
It creates volume and length
It has two variants (one for short/lower lashes and one for longer/upper lashes)
Claims 24-hour wear
Cons:
Not super affordable (12ml for $28.00)
It can be thick to apply
Can flakes
Only 1 shade is available
Not cruelty-free
4. Maybelline New York Lash Discovery Waterproof Mascara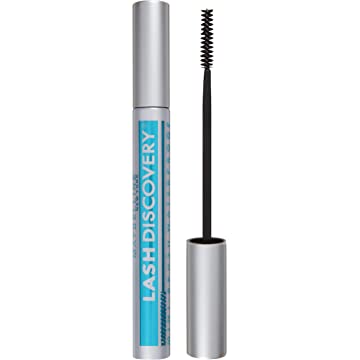 Maybelline is a well-known brand, and they're known for their mascaras in particular. Their Lash Discovery Mascara is great for coating even your smallest, tiniest inner lashes, and is an excellent option if you want something hypoallergenic.
Since the mascara claims to be suitable for sensitive eyes, it is also contact lens safe. This is a good choice if you are looking for something simple to do the job, add length, and separate your lashes while also not irritating your eyes.
Colors: 1 shade available
Waterproof? Yes
Product Size: 0.16 fl oz
Key Features: hypoallergenic and contact lens safe
Cruelty-free? No
Recommended For: If you have sensitive eyes and are looking for something affordable and volumizing, give this a try. I have sensitive eyes, so I look for hypoallergenic options for mascara and anything I put near my eyes. This mascara is great in this regard. I don't wear contact lenses, so I can't say how well it works for those, however.
There isn't much to this product. It just lengths and is waterproof. And it only comes in one shade, but it has washable and waterproof variants. The interesting part is the brush — it's tiny, so it's excellent for getting every last little lash, particularly on the lower lashline. If you want something to lengthen and separate all of your lashes for a feathery look, give this mascara a try.
Pros:
It comes in washable or waterproof formulations
Mini brush lengthens and defines hard-to-reach lashes
no clumping
Cons:
Only 1 shade available
Not cruelty-free
5. Chanel Le Volume de Chanel Mascara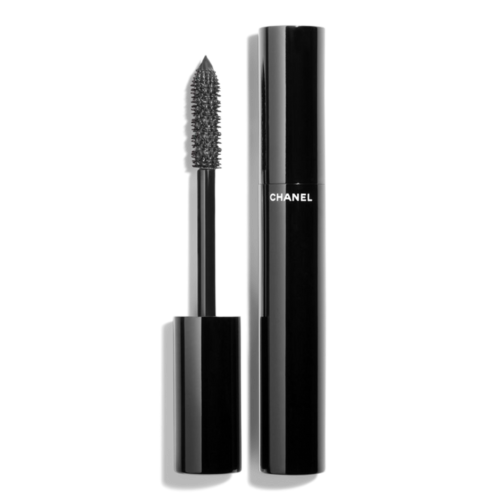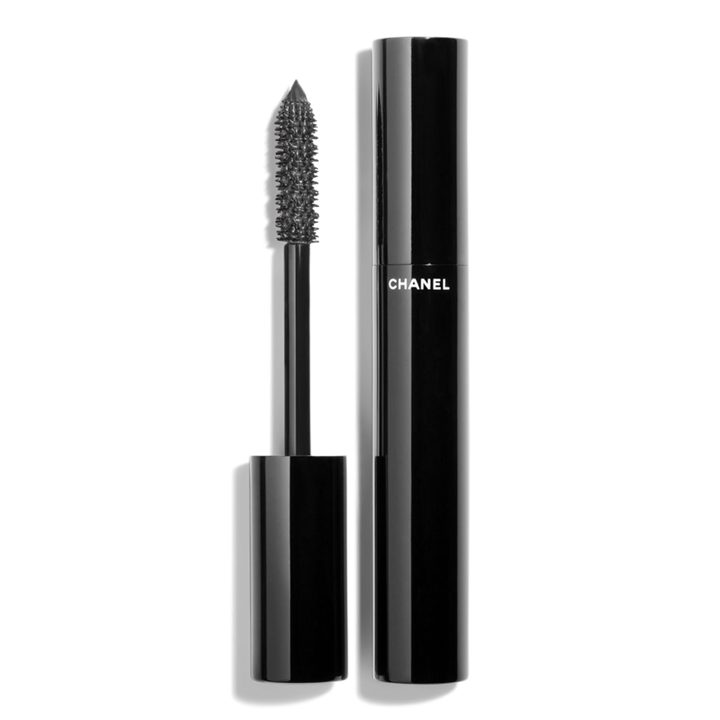 And for the last mascara on the list, we have the Le Volume de Chanel Mascara from Chanel. Chanel is one of the most well-known and iconic brands in the world, and its makeup rarely disappoints. This mascara is fantastic for instant volume and getting longer and thicker lashes.
Le Volume de Chanel is fantastic for a dramatic look — so much so that it may be best suited for nighttime makeup. Also, it is the most expensive mascara on the list at $35.00. But it's worth the splurge if you want lashes that make you stand out and give off a glam vibe.
The packaging is simple, black, with the Chanel name in white letters on the side. It is sleek, and the logo is recognizable. It has classic Chanel vibes.
Colors: 2 shades available
Waterproof? No
Product Size: 0.21 fl oz
Key Features: Creates instant volume and intense color and makes lashes longer and thicker looking
Cruelty-free? No
Recommended For: Let's start with the drawbacks — this is pricey at $35.00 as this is the most expensive mascara on this list. It also only comes in two colors, black and brown. And though it gives instant volume with one stroke, it is dramatic for everyday wear.
However, if you don't mind the glam look at any time of day, this mascara can be great to help lengthening and add volume to your lashes. Personally, I'd wear this mascara at night or as part of a soft glam look for daytime wear.
Pros:
Great at instantly giving volume to lashes
Intense color
Bigger precision brush
Creates thicker lashes and lengthens
Cons:
The brush is a bit big to use on the bottom lashes
Can flakes
Not waterproof (though they make a waterproof version for the same price)
Pricey (0.21 fl oz for $35.00)
What do you think of our picks for the best mascaras for thin lashes?
Did we include any of your favorites? What is your go-to mascara? Do you prefer washable or waterproof mascara? Let us know in the comments!