This post may contain affiliate links, which means we may receive a commission if you purchase through our links. Please read our full disclosure here.
This guide to Sydney Sweeney's outfits will show you how to copy her style.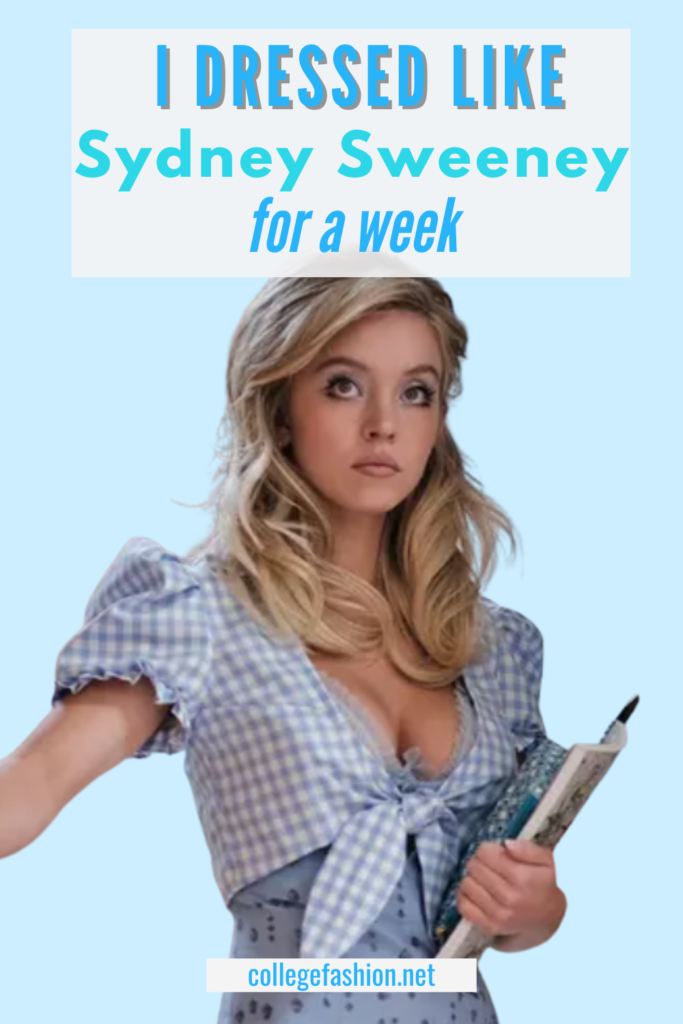 We've all looked to celebrity style for fashion inspiration at some point in our lives. But it's one thing to say, "I love her outfit," and it's another to copy it in real life.
For this series, I'm going the extra mile and making it happen. Each week, I'm getting inspiration from a celebrity and copying five of her looks as closely as possible. Then, I'm reporting back to you: Did the outfits work in real life? Did I feel comfortable? Did people treat me differently? I'm sharing it all.
This week, I copied five outfits from Euphoria's Sydney Sweeney.
About Sydney Sweeney
Sydney Sweeney is an American actress. She's had a lengthy filmography, but she first gained mainstream attention playing Emmaline in the Netflix series Everything Sucks!.
Sweeney is best known for her role as Cassie Howard in the critically-acclaimed series Euphoria. Cassie was her breakthrough role. She also gained critical acclaim for her performance as Olivia Mossbacher in The White Lotusanother HBO series.
RELATED POST: The Ultimate Euphoria Style & Outfits Guide
Sydney is currently nominated for Emmys in the categories of Outstanding Supporting Actress in a Drama Series and Outstanding Supporting Actress in a Limited or Anthology Series or Movie for Euphoria and The White Lotus, respectively.
Outside of acting, she is also a trained MMA fighter and a skilled mechanic.
Sydney Sweeney's Style
Sydney's style is an excellent source of inspiration if you want to see a cool take on modern trends. Her style is cool-girl chic with a hint of sexy here and there.
She prefers a combination of ultra-comfy items (baggy pants and jeans, sneakers, t-shirts) and trendy, Y2K-inspired pieces (corset tops, mini-skirts, platform shoes). She also mixes in preppy pieces from time to time, like blazers, loafers, and pleated skirts.
Color-wise, Sydney usually goes for neutrals (navy blue, brown, black, and white) and pastelsespecially pink and blue.
Taking all that into account, let's get to the looks!
Sydney Sweeney's Style: A Fashion Guide
Monday – Crop Top & Long Pants
For the first day, I wanted an outfit that reflected Sydney's most comfortable, street-style looks. I decided I would recreate this outfit.
In the linked photo, Sydney wears a white crop top, wide-leg pants, white sneakers, and sunglasses.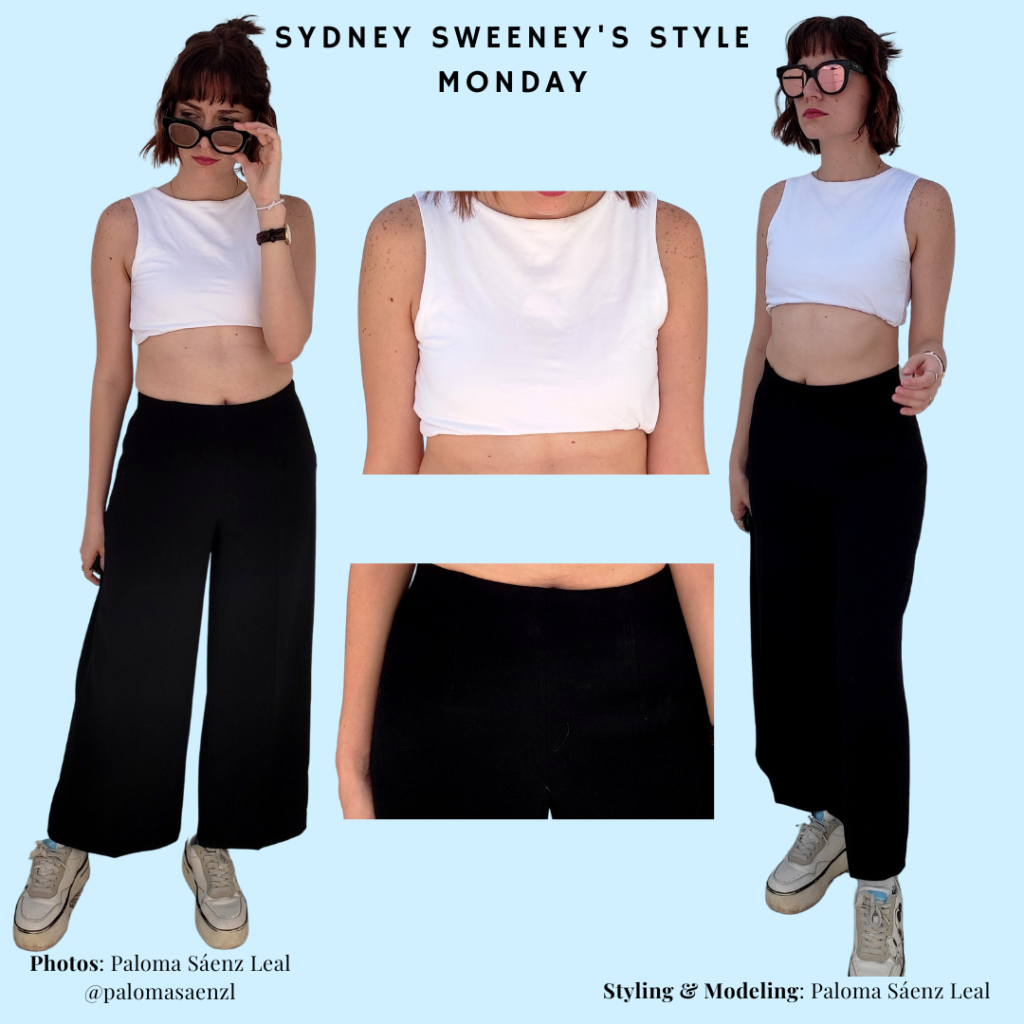 To recreate the look, I paired a cropped white tank top and black wide leg pants. My pants aren't as long as hers, but they still have the same vibe. Then, I borrowed a pair of chunky white sneakers from my sisters.
Since it was such a simple look, I decided to keep my simple make-up too and just put on a bit of blush and a tint on my lips.
Honestly… I wouldn't call this look cute, at least not for my taste. But it was the most comfortable outfit I've worn in a while. And I loved it!
This outfit was super comfortable for a day of work. And when I went out for the day, I didn't feel unstylish or unkempt, which is how I usually feel like in outfits like this. It's such an easy look to put together, which makes it versatile, too.
I'm currently working from home, but I do go to the office from time to time. If I had to go to the office with this, I could swap in a white tee, add a jacket or blazer, and it would work out perfectly.
Tuesday – Pink Top & Denim Shorts
For my second Sydney look, I wanted to recreate one of her girly summer looks.
The outfit I chose is this one. In the linked photo, Sydney wears denim shorts, a pink top, white sneakers, and sunglasses.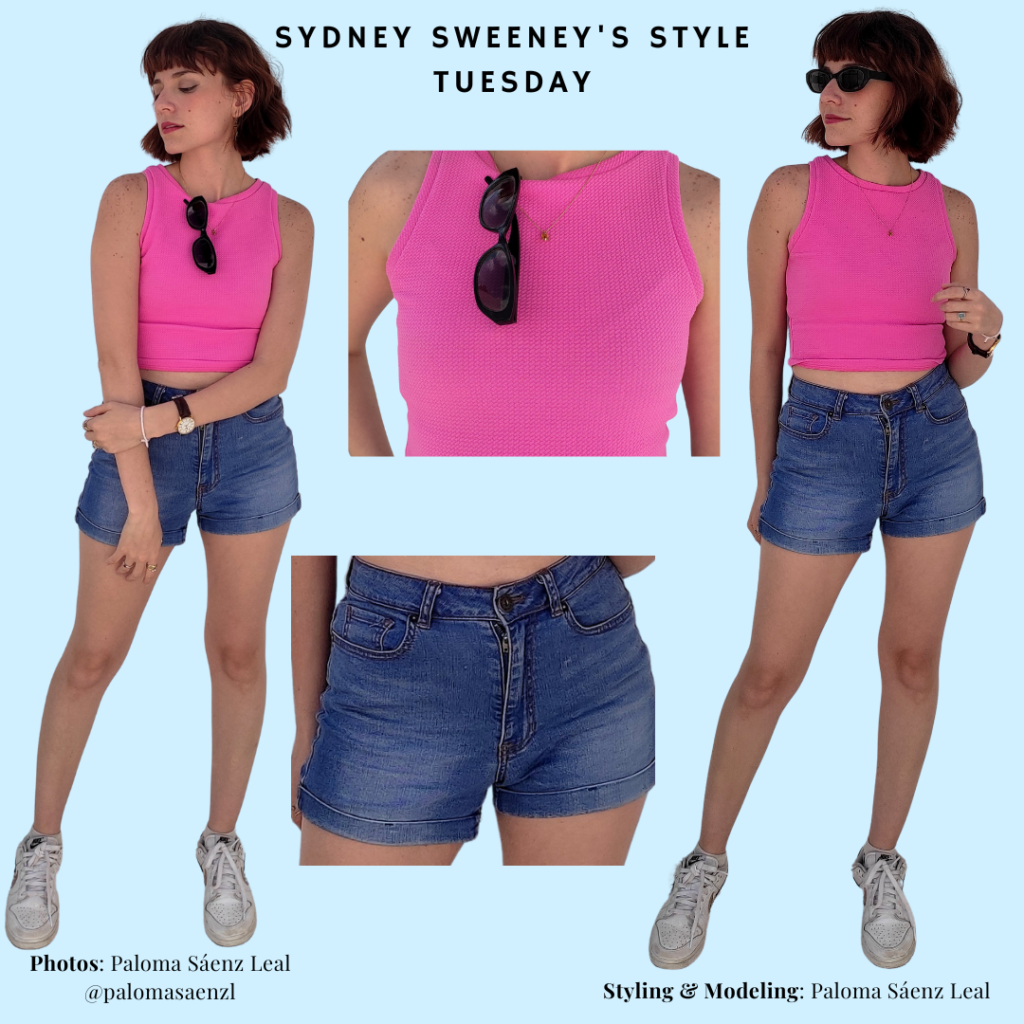 To create my version of this look, I started with a bright pink knit top and a pair of medium wash denim shorts. I had a few options for the top, but I didn't have an exact copy of it (cropped polo), so I chose this cropped one with a high, round neck.
For shoes, I put on a pair of white Nike sneakers that have a simple detail on the side. Finally, my only accessory was a pair of black sunglasses.
This look was so cute! It was so comfortable and easy to put together. I really, really enjoyed this one.
I do have to say, though, it wasn't the best outfit for rainy summer weather. So when I went to the movies that day, I ended up changing to be comfortable with the rain outside and with the A/C in the cinema.
Wednesday – Bralette, Blazer, White Pants
For Wednesday, I always try to choose a wild-card outfit. With Sydney's style, this meant that it had to be something sexy, effortless, and edgy. So, I chose this look. (You can see the front in this photo.)
In the photos, Sydney wears a black bralette, blazer, white pants, and sneakers.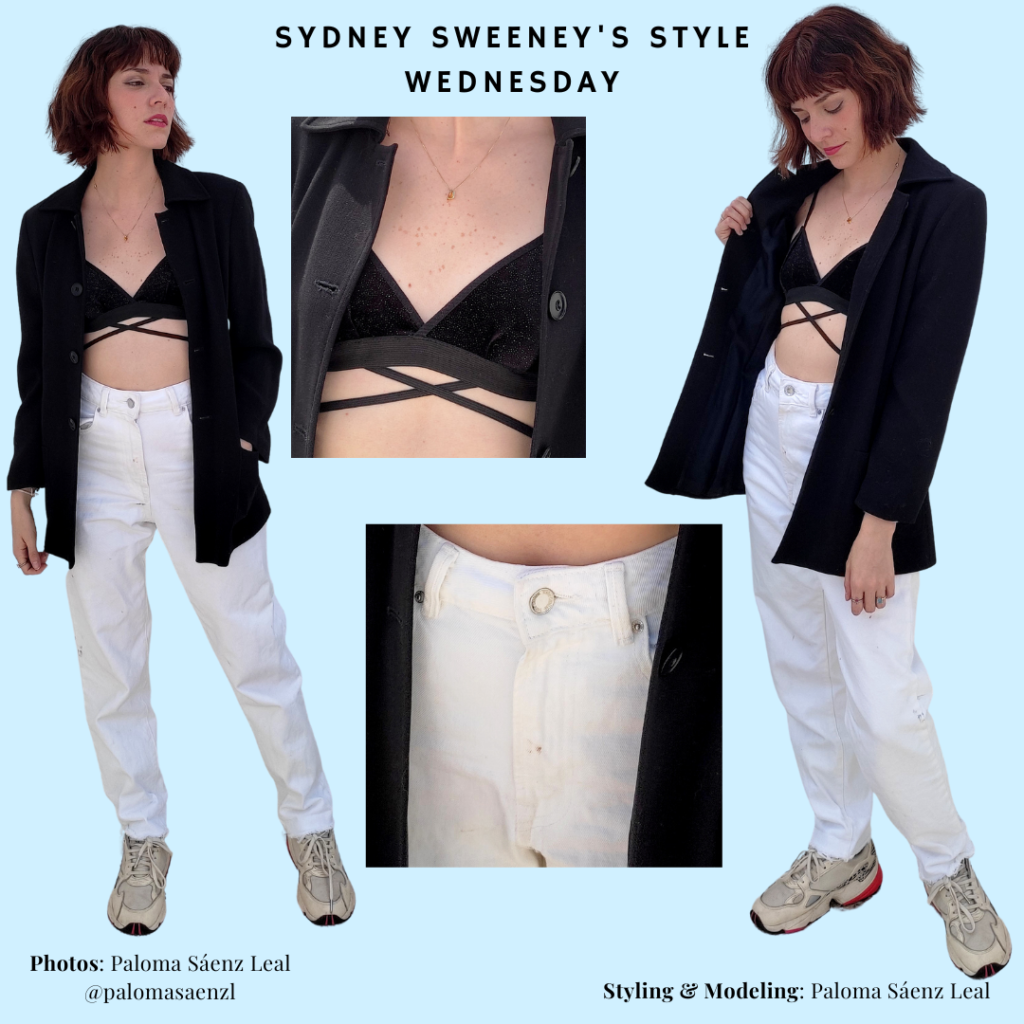 To start it off, I wore a black bralette. Sydney's bralette is black satin, but I had this one that is black velvet with a bit of glitterso I ended up wearing this one.
Then, I wore some white mom jeans. In the photo, Sydney is actually wearing wide-leg pants, but the jeans worked perfectly for me. Afterward, I threw on a black blazer and a pair of white platform sneakers. I borrowed the sneakers from my sister.
This outfit was both easy and daunting. Honestly, I don't wear bralettes as tops often. I like their look, but I'm flat-chested, so when I wear them, I feel uncomfortable and a lot more conscious of how I look. It feels like I shouldn't be wearing a bralette as a top.
But wearing this made me feel (and look) cool and cute. It shows off a lot of skin, but the blazer makes it work for the weather.
Thursday – Sweatshirt, Jeans, Sneakers
It was Thursday, and I wanted to get back to the basics. Sydney's style is a great inspiration if you want to learn how to make basic items work and look anything but basic.
The look I chose for Thursday is this one. In the photo, Sydney wears a brown sweatshirt, jeans, sneakers, and a belt.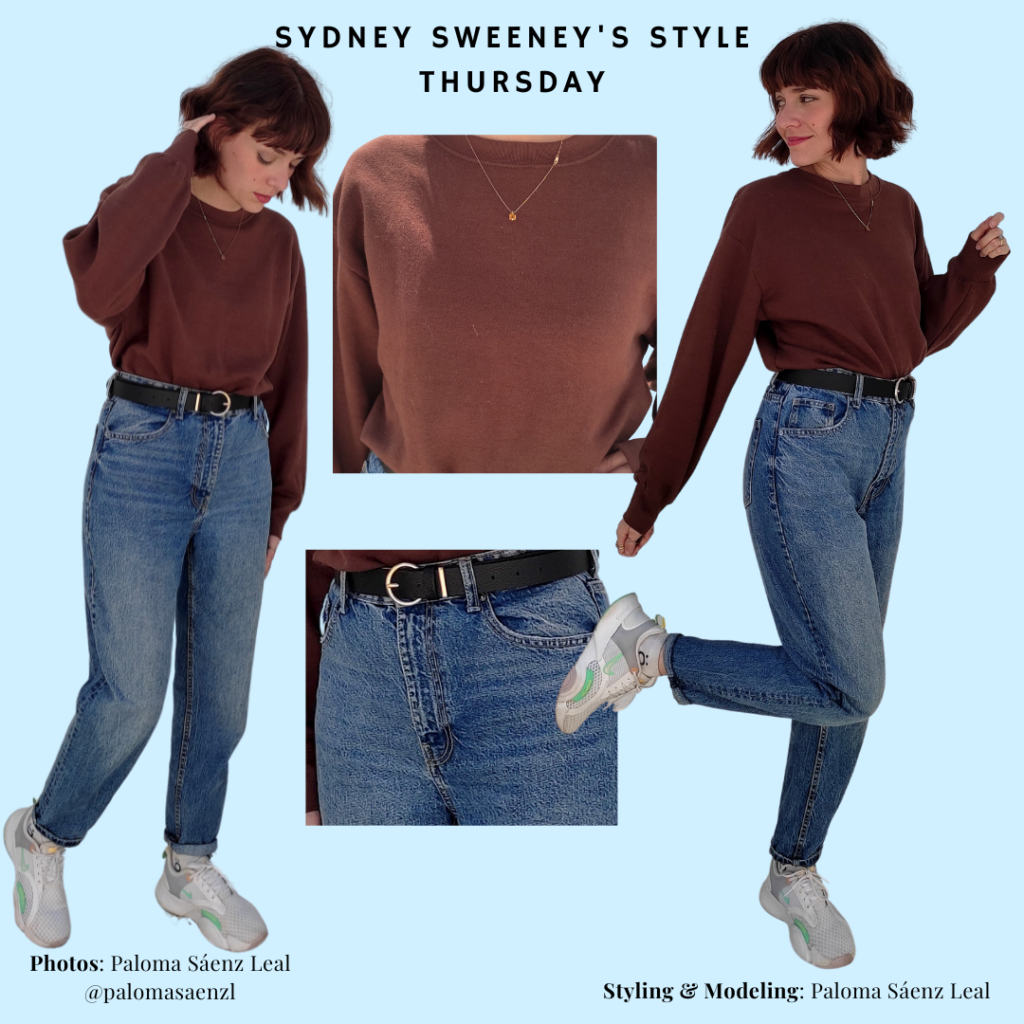 To create this look, I wore my brown sweatshirt and a pair of medium wash mom jeans. Syndey's sweatshirt is a lighter shade of brown and has a graphic design, but I already had this brown sweatshirt, which fit the cozy vibe. Then, I put on a black belt.
Finally, for shoes, I borrowed these off white sneakers from my sisters. They have a similar shape and texture to the ones Sydney is wearing.
Okay, now, this outfit is right up my alley. Anyone who knows me knows I love a good sweatshirt and mom jeans combo. It is my go-to look when I don't know what to wear. This one was cute, comfortable, and perfect for everything I did that day.
Friday – Sweatshirt, Tennis Skirt, Platform Sneakers
When I write these posts, I always wear the outfit I'm most excited about on Friday. Sydney has a preppy streak to her, so I wanted to add that to the mix.
This is the outfit I chose for the final day. Sydney is wearing a white shirt, a blue sweatshirt, a pleated skirt, and platform sneakers.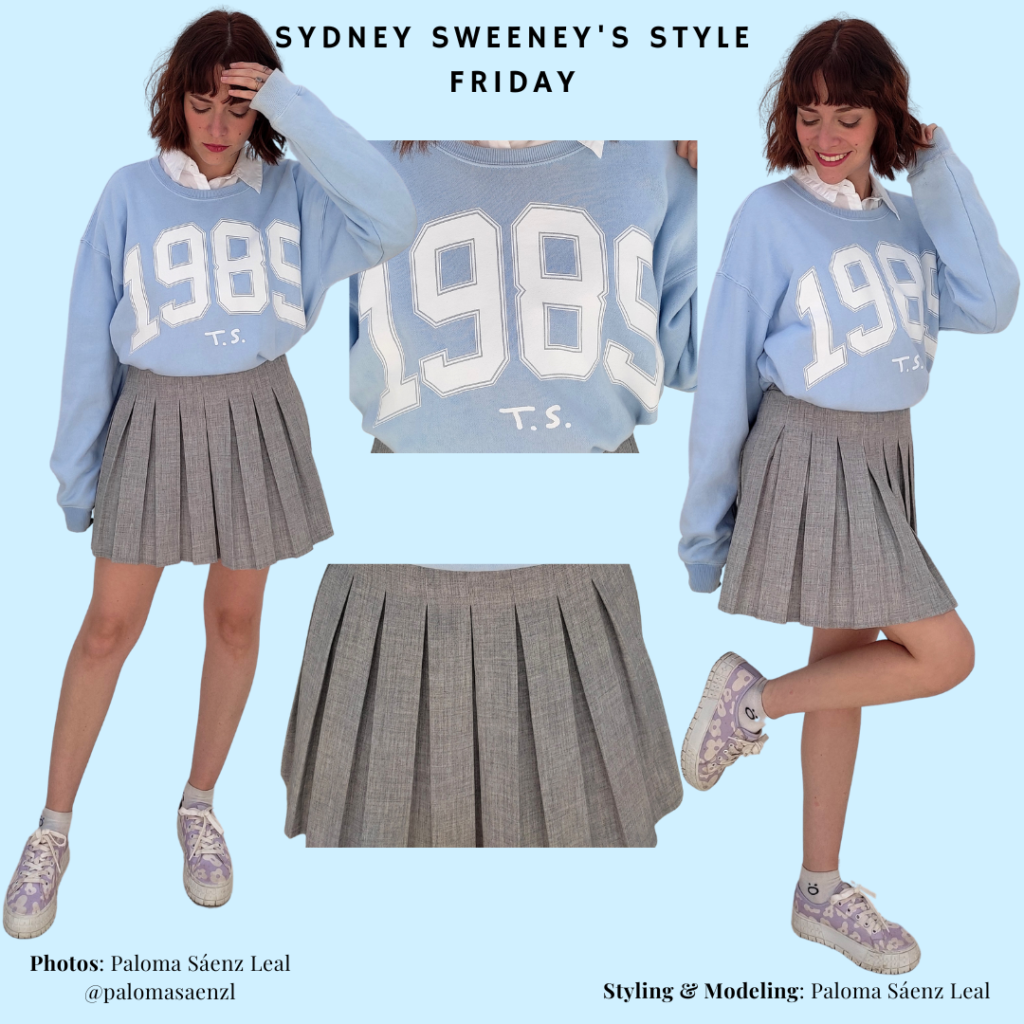 To get this look, I first put on a simple, white button-up shirt. Then, I wore a light-grey, pleated mini skirt and tucked in the shirt. Sydney's skirt is white, but I had this pleated skirt and decided to make it work.
For the sweatshirt, I threw on my '1989′ light-blue sweatshirt. (Yes, it is Taylor Swift merch.) I folded it a bit so it would seem like I had tucked it in. Finally, I wore a pair of lilac platform sneakers that are almost exactly like hers, except for the color.
This outfit recreation is spotty but very accurate at the same time. For the first time ever, I had all the items, almost like carbon copies of hers. Except for the colors. After some deliberation, I decided to go ahead and do it with what I had and hope for the best.
I loved this look! Friday is date night, so this one was a great outfit to wear for dinner and drinks. I threw on a black coat just in case it rained (which it did). I think it's cute, hot, and comfortable. Honestly, I feel beautiful in this.
Final Thoughts
What an exciting week!
If I'm being 100% honest, I don't follow Sydney because of Euphoria. I knew her from Everything Sucks! first, and she was one of my favorite characters. I'm not big on Euphoria, which I know is almost sacrilegious to say. I love its fashion and look, but I never really got into the story. But, I have seen it, and Sydney is fantastic in it.
(I'm not closing the door on a Euphoria-inspired post, though. Maybe that will be my gateway to loving it as much as everyone else.)
As a semi-disclaimer here, I know that some of these looks are not school- or office-appropriate for most of us. Believe me, I am aware. When I started doing these posts, I chose many school- and office-appropriate outfits because that's where I was going and doing. Now that I work from home most of the time, I've had a chance to try to recreate different types of outfits and make them relatable, attainable, and easy to break down for you. And I hope you find it as helpful as the more toned-down outfits.
Sydney's style is simple and elevated, which I loved. I think I wore more neutral items this week than I have in a very long time, without feeling "basic" or too plain. The entire week I was comfortable, but there was always something extra spicing up every look. Of course, some looks weren't exactly what I would wear or how I would put things together, but it was fun to see a different perspective on relatable and normal outfit combos.
If you want trendy, comfortable, sexy, and, online, you should get inspired by Sydney's style. Her style is very much her own, but that doesn't mean you can't try to make it your own. Like I mentioned over and over again, she manages to wear a lot of basics and make them something new, so I'm betting you have everything you need in your closet right now.
What do you think of Sydney Sweeney's style?
What outfit was your favorite? Do you like Sydney's style? Have you seen Euphoria or any other of Sydney's shows? Whose style do you think I should cover next? Let us know in the comments below!